Various factors can cause acne, but it is most common when our hormones change. However, with the right skincare products, you can fight the impurities.
Here are some of our recommended vegan skincare products for acne-prone skin to help you fight acne and pimples.
Best Vegan Moisturizer For Acne-Prone Skin
Acure Mattifying Moisturizer​
Acure is a vegan company that uses primarily organic substances and eliminates over 100 problematic ingredients. The list of ingredients is ideal for acne-prone skin.
Their mattifying moisturizer is ideal for oily skin. It hydrates the skin, making it clear and smooth. Chlorella and lilac extract improves skin tone and texture.
The Acure Incredibly Clear Line contains the best acne and acne scars products. Acure contains salicylic acid, white willow bark, aloe, clay, and numerous beneficial ingredients.
Other products we like are the Acne Spot Treatment, which targets pimples with salicylic acid, and the cleansing clay, which uses charcoal and volcanic lava ash for a thorough cleanse.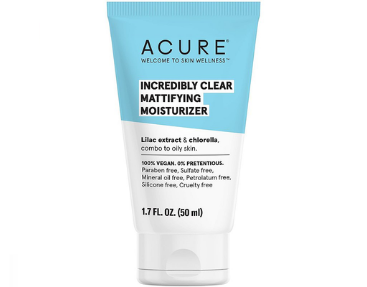 Best Vegan Cleansers For Acne-Prone Skin
Doers of London Facial Cleanser
The Doers of London Facial Cleanser contains a nourishing, balancing formula suitable for all skin types.
It's packed with skin-loving nutrients like green tea, cucumber, jojoba oil, and lemon.
With its bright, tangy aroma, you can not go wrong with this energizing morning cleanser that will become a staple in your vegan skincare routine.
Dr. Bronner's Castile Liquid Soap - Tea Tree
Dr. Bronner Castile Liquid Soap in Tea Tree is a great vegan, organic skincare due to its ethical approach and effective skincare performance.
This liquid soap is biodegradable, vegan, and plant-based and is made with certified fair trade ingredients and organic oils.
Made with organic virgin coconut, jojoba, hemp, and olive oils, this product can be used all over the body to cleanse the skin. This soap makes a nice silky lather and is an excellent cruelty-free acne face cleanser.
The tea tree oil in this blend is excellent for healing acne and removing blackheads from the skin.
This affordable vegan skincare product cleanses the skin well without being aggressive or harming the skin because pure essential oils are used. 
Best Vegan Healing Strips For Acne-Prone Skin
Peace Out makes fantastic skincare products to treat pimples. It even has patents on its acne dots and pore strips. Peace Out is also a vegan brand, confirmed by PETA.
We are obsessed with their Healing Dots and Treatment Strips, which offer a quick fix for blemishes and enlarged pores. The brand's active chemicals include salicylic acid and retinol.
In addition to the skincare stickers, the vegan brand offers a fantastic serum for daily use with niacinamide and vitamin C. The serum has both healing and anti-acne effects.
There is also a vegan retinol stick that is ultra-concentrated and targets pores, wrinkles, and fine lines. The stick complements the acne-prone skincare regimen.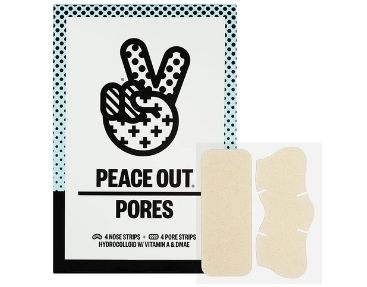 Jane Iredale Dream Tint Tinted Moisturiser SPF15
When your acne starts to show, you usually want to conceal it with a full range of cosmetics.
Rather than trying to conceal it all, try something gentler. Opt for a vegan acne product like the vegan Jane Iredale Dream Tint Tinted Moisturiser SPF 15.
This cruelty- and sulfate-free face tint aims to soften the texture of your skin while smoothing out fine lines and wrinkles.
This lightweight moisturizer comes in various colors and has an SPF of 15 to protect skin from harmful UVA /UVB rays.
Dream Tint is also water-resistant for up to 40 minutes! The titanium dioxide contained in the tint is a mineral that protects the skin. And elderflower extract helps keep the skin vibrant and radiant.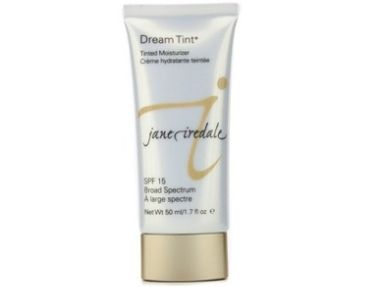 Inika Organic Perfection Concealer​
Why choose heavy, ingredient-laden makeup when there's a cruelty-free, vegan concealer that works with your skin?
The Inika Organic Perfection Concealer provides beautiful coverage for your skin. This concealer conceals blemishes, pigmentation spots, and dark circles while evening out your skin tone.
Made in Australia, this concealer is certified organic, free of artificial fragrances, and completely vegan, making it the gentlest product you can use on your skin.
The lightweight formula makes all troublesome skin spots disappear and is suitable for all skin types.
Best Skincare Brands that offer products For Acne-Prone Skin
Here are our top picks for vegan skincare for acne-prone skin. While not all of these products are entirely vegan, many offer excellent vegan skincare lines.
The Body Shop sells high-quality skincare at an affordable price. Their Tea Tree line is completely vegan and works wonders for troubled and acne-prone skin.
Their Tea Tree Purifying  Kit is said to eliminate excess oil and promote a clear, matte complexion. It also improves acne scars and prevents future breakouts.
We recommend the Skin Clearing Mattifying Toner if you like using mattifying toners. It gives the skin a beautiful complexion and mattifies it without drying it out.
The products in the Tea Tree series work best together. We recommend using the toner with the facial cleanser, night lotion, and clay mask to improve your complexion.
Paula's Choice is not entirely vegan, but its award-winning Clear collection for acne-prone skin is.
Their collection includes both regular and extra strength remedies, depending on the severity of your acne. Their Extra Strength line is trendy in the skincare community.
We like the Clear Moisturizer because it's oil-free and provides just enough moisture for blemish-prone skin. It also contains ceramides that help reduce redness.
Pair it with their pore-normalizing vegan cleanser and a liquid exfoliator with 2% salicylic acid.
Paula's award-winning Clear Body Spray is fantastic if you have persistent body acne. It quickly eliminates pesky pimples and soothes the skin. They also offers a fantastic 1% vegan retinol treatment.
The Inkey List is a UK skincare company that makes affordable products with proven ingredients. They have a lot of popular vegan products for acne-prone skin.
We highly recommend The Inkey List C-50 Blemish Night Treatment because of its potent combination of vitamin E and vitamin C, which helps with breakouts. The treatment is most effective when used with their salicylic acid cleanser.
We recommend the Kaolin Clay Mask as a reliable vegan face mask for blemish-prone skin. It's not intrusive but strong enough to clarify and cleanse the skin.
Bear in mind that The Inkey List is cruelty-free but not always vegan. Every vegan product is marked with the Vegan Society mark on their website.
Best Vegan Night Cream For Acne Prone Skin
The Body Shop Tea Tree Night Lotion​
This vegan nighttime moisturizer does three things: hydrates acne-prone skin, controls sebum production and clears blemishes.
This Tea Tree Night Lotion has a gel-lotion formulation that helps blemished skin with lightweight hydration while reducing excess oil and sebum.
The lotion, which contains Community Trade tea tree oil, helps keep oily skin under control overnight, fading the look of blemishes while you sleep.
Despite its refreshing minty scent, the lotion is also suitable for sensitive, acne-prone skin.
Is vegan skincare good against acne?
Acne, pimples, and blemishes often occur when the skin surface is congested. While you may be tempted to clear them with an abundance of harsh astringents or a heavy vegan moisturizer, your skin often benefits from a gentler treatment.
Some of the most effective acne-fighting chemicals are found in plant-based, cruelty-free skincare products.
Today, there are numerous wonderful skincare brands for acne-prone skin that are vegan. But, you do not have to be a strict vegan to appreciate vegan skincare products. 
If you tend to have red, irritated, acne-prone skin, you may need to vary your skincare regimen to achieve a positive effect. So why not make vegan acne skin care your new best friend?
Which vegan ingredients are beneficial for acne-prone skin?
Glycolic and lactic acids help remove irritating dead skin cells from pores. Salicylic acid is a powerful exfoliant that also has anti-inflammatory properties. Sulfur helps remove excess oil from the skin. And tea tree oil is an all-natural, premium skin blemish remover.
Niacinamide, retinol, benzoyl peroxide, and clay are among the best vegan ingredients for acne-prone skin.
Vegan Skincare Ingredients For Acne-Prone Skin
We have compiled a list of the best vegan ingredients for acne-prone skin to help you find the best vegan acne treatments and cleansers.
Salicylic acid is naturally found in many plants and protects them from viruses, bacteria, and fungi. Salicylic acid is extracted from white willow or synthesized in skincare. Salicylic acid has analgesic and relaxing properties as well as anti-inflammatory properties. Therefore, salicylic acid is excellent for healing pimples.
Willow Bark: Salicin, found in the extract of the white willow tree, is a milder form of salicylic acid. This versatile chemical has been shown to help reduce acne and inflammation. White willow bark also tightens the skin and makes pores appear smaller.
Niacinamide: Niacinamide, also known as vitamin B3, improves the skin's ability to renew itself and helps regulate sebum production. Niacinamide also has a calming effect. Because of these properties, vitamin B3 reduces the appearance of troublesome skin problems. Niacinamide is usually vegan-friendly in skincare.
Retinol, often referred to as vitamin A, promotes the skin's ability to repair itself. It helps refine pores, reduce blemishes and create a smoother complexion. Retinol is always vegan and is synthetically derived in skincare. For severe acne, your dermatologist may advise you to use a stronger retinoid, such as retinal or retinoic acid.
BPO (Benzoyl Peroxide) is anti-inflammatory, antimicrobial, and mildly comedolytic, meaning it dissolves blackheads. Therefore, it is one of the most important active ingredients in treating acne.
Tea Tree: Tea tree is a natural antibiotic with therapeutic effects. This is because of the high concentration of terpinene, which possesses antibacterial, anti-inflammatory, and fungicidal properties and aids wound healing.
Sulfur: dries the skin surface and reduces excess sebum and bacteria that cause acne. The natural element is an excellent vegan ingredient for treating pimples.
Sage oil contains linalyl acetate and geranyl, which help regulate excessive sebum production in the skin. It also helps prevent wrinkles.
Clay can destroy bacteria and fungi and absorb excess oil or sebum. Therefore, a clay face mask is ideal for oily skin with acne.
What To Look For In Vegan Skincare Products For Acne-Prone Skin?
Noncomedogenic vegan skincare for acne-prone skin is recommended. Cosmetics should not contain ingredients that could clog pores. Avoid textures that are rich and greasy.
Silicones, lanolin, and paraffin, as well as some vegetable oils such as coconut oil, are comedogenic.
Jojoba oil, argan oil, and avocado oil, on the other hand, do not clog pores.
Aggressive soaps, detergents, and skin brushes are also off-limits for vegan acne skincare. Avoid artificial chemicals, skin-drying fragrances and alcohol if at all possible.
Helpful keywords for acne-prone skin also include: dermatologically or clinically tested, non-greasy, and PH balanced.
Best Vegan Skincare Routine For Acne-Prone Skin
Cleanse your face and neck in the evening to remove makeup and dirt that has accumulated on your skin during the day. Use a vegan cleanser that is gentle, soap-free and fragrance-free.
For blackheads and congested skin, you may choose to exfoliate after cleansing. Remember to exfoliate no more than three times per week.
Choose a vegan moisturizer that is hypoallergenic and non-comedogenic. If you use a vegan night cream, make sure it is suitable for acne-prone skin.
Cleanse acne-prone skin with lukewarm water in the morning to prevent new acne from forming. Remember that consistency is more important than intensity.
After cleansing, apply a vegan serum with active ingredients that reduce blemishes or prevent acne, such as niacinamide or retinol. Then apply a vegan sunscreen.
It's necessary to protect your skin from UV damage. If you use acne medications, your skin will be very sensitive to the sun.
Last but not least, avoid nibbling or squeezing the areas. We have a lot of bacteria harboring on our hands, which might aggravate the situation. Don't hesitate to seek medical attention if you suffer from severe acne.
Clean beauty and vegan skincare products are becoming more and more popular! Maybe you love vegan products or want to try vegan skincare for acne for the first time.
If you have acne-prone skin, vegan skincare is an excellent option.
Disclaimer: This post is not sponsored. However, this may include affiliate links through which I may earn a small commission at no extra cost to you. I'd like to keep this up to date, so please let me know if you find anything inappropriate or missing from this list.